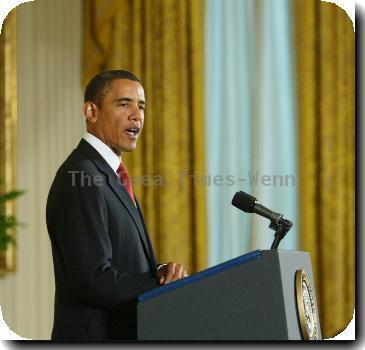 more images
Fear dominates life in Mexico's deadliest city
WASHINGTON — Military officials voiced frustration and congressional leaders urged caution Tuesday over what they described as President Barack Obama's shifting strategy in Afghanistan, six months after he committed thousands more U.S. troops to the stalemated war there.
MOORPARK, Calif. — A new wildfire erupted in Southern California on Tuesday as windy, dry and hot weather turned the region into a tinder box.
BANGKOK — Oil prices hung near $70 a barrel Tuesday in Asia after falling steeply overnight amid news that China's crude consumption fell in August.
GAUHATI, India — A 6.3-magnitude earthquake shook the remote mountain nation of Bhutan on Monday, killing at least 11 people, damaging an ancient monastery and forcing hundreds to flee, officials said. At least 15 people were also injured.
TYNGSBOROUGH, Mass. — Spinning flywheels have been used for centuries for jobs from making pottery to running steam engines. Now the ancient tool has been given a new job by a Massachusetts company: smooth out the electricity flow, and do it fast and clean.
MIAMI — Cuban dissident punk rocker Gorki Aguila is in the U.S. for 15 days to promote his new CD, but he's not sure if he'll be able to return home because of his sharp criticism of the Cuban government.
INDIANAPOLIS — The state Court of Appeals on Thursday struck down an Indiana law requiring government-issued photo identification for voters, overturning on state constitutional grounds a strict law previously upheld by the U.S. Supreme Court.
DENVER — A man identified by law enforcement as having a possible link to al-Qaida has ended a second day of questioning in a terrorism probe but has been asked to return for more interviews, his attorney said Thursday.
BUFFALO, N.Y. — In a Sept. 15 story about a family that received a telephone call from the U.S. Army incorrectly saying that their son had been killed in Afghanistan, The Associated Press misspelled the surname of another soldier who was killed. His correct name was Army Sgt. Tyler A. Juden, not Judin.
HARTFORD, Conn. — A former executive of Berkshire Hathaway's General Re was sentenced Tuesday to two years probation for his role in a financial scandal that cost shareholders of insurer American International Group Inc. more than $500 million.
MOGADISHU, Somalia — U.S. special forces aboard helicopters penetrated into Somalia and, guns blazing, attacked a convoy said to contain a top al-Qaida fugitive. U.S. and Somali officials confirmed Tuesday the man was killed, and Islamist insurgents vowed to seek revenge.
VIENNA — The head of the U.N. nuclear monitoring agency is calling for talks between Iran and the U.S. and cautioning against the use of force to resolve international disagreements.
WASHINGTON - In a research aimed at improving the quality of water in space, University of Utah chemists have developed a two-minute water quality monitoring method that just started six months of tests aboard the International Space Station (ISS).
THE HAGUE, Netherlands — Argentina argued Monday at the U.N.'s highest court that Uruguay "flagrantly breached" international law by authorizing the construction of two pulp mills on the river that separates the two countries.
DHARMSALA, India — A top adviser to U.S. President Barack Obama met Monday with the Dalai Lama and briefed him about the Obama administration's approach to Tibet, the Dalai Lama's office said in a statement.
WASHINGTON — President Barack Obama heads to Wall Street to make a major speech on the U.S. economy.
THE HAGUE, Netherlands — The U.N. Yugoslav war crimes tribunal on Monday found a former prosecution spokeswoman guilty of contempt for revealing confidential court decisions made by judges during the trial of Serbia's ex-President Slobodan Milosevic.
NEW DELHI - Minister of State for External Affairs Shashi Tharoor on Monday said he was not surprised by former Pakistan President Pervez Musharraf's admission that the military aid the U.S. gave to Pakistan was used to strengthen defences against India rather than fighting the war on terror on Pakistan's borders with Afghanistan.
LONDON - Here's some news that will bring double joy to women: a "two in one" boob job technique that uses unwanted fat from other parts of the body has been developed.
The Associated Press-GfK Poll on the economy was conducted by GfK Roper Public Affairs & Media from September 3-8, 2009. It is based on landline and cell phone telephone interviews with a nationally representative random sample of 1,001 adults. Interviews were conducted with 801 respondents on landline telephones and 200 on cellular phones.
KABUL — Afghan army recruit Shahidullah Ahmadi can't read — and neither can nine out of 10 soldiers in the Afghan National Army.
Oil prices dropped below $69 a barrel Monday, hurt by a rise in the U.S. dollar, which tends to weigh on commodities, and a slide in regional stock markets.
LODI, Calif. — Two members of an elite skydiving team were killed when their parachutes got entangled at 6,000 feet during a group jump in Northern California.
MIR ALI, Pakistan — A missile fired from a suspected unmanned U.S. drone slammed into a car in a Pakistani tribal region close to the Afghan border Monday, killing four people, intelligence officials and residents said.