Joe Stack Plane Crash at Austin Echelon Building
By soumitra, Gaea News Network
Thursday, February 18, 2010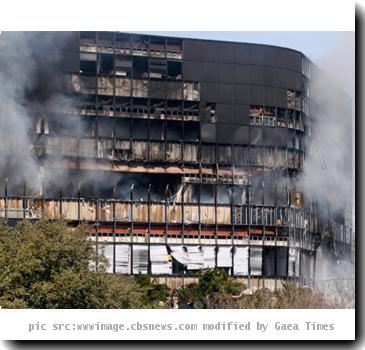 more images
Texas (GaeaTimes.com) – Joseph Andrew  Stack of Texas apparently had some serious grudge against the Internal Revenue Services as he flew a small airplane intentionally into an IRS building. He left a suicide note before flying his Piper Cherokee PA-28.  There were 199 people working in the IRS office at Echelon Building in Austin. No deaths are reported yet but two people were taken to hospital and with one released shortly after and another had about 20% burn of his body mostly at his back. Stack is presumed dead and police has not yet recovered his body. Firefighters worked Thursday afternoon to put out the blaze at the Echelon building.
Joseph Andrew Stack was 53 years old and he owned a company called Embedded Art. He left a long message on his website which is now being called as the suicide note. The suicide note suggests that he was frustrated with the IRS and it goes on about the federal government and Internal Revenue Services. Here are some of the excerpts from that long message.
If you're reading this, you're no doubt asking yourself, 'Why did this have to happen?'
The simple truth is that it is complicated and has been coming for a long time.
I saw it written once that the definition of insanity is repeating the same process over and over and expecting the outcome to suddenly be different.
I am finally ready to stop this insanity. Well, Mr. Big Brother IRS man, let's try something different; take my pound of flesh and sleep well.
According to the latest update from the sources, he also had some larger ambitions than this. He planted a bomb in a car at an airport and bomb squad is now trying to defuse it. The airport is though a relatively minor airport of Georgetown at north of the city.