LOS ANGELES — An analyst downgraded the shares of DreamWorks Animation SKG Inc. on Wednesday, saying speculation it would be bought by a media giant was unfounded.
SRINAGAR - An ancient sculpture of Hindu Goddess of wealth Gajalakshmi has recently been discovered at Nagbal Lesser village in Jammu and Kashmir.
LOS ANGELES —"G.I. Joe" has claimed the box-office spoils of war with a $54.7 million opening weekend for the action flick based on the Hasbro toys. Meryl Streep baked up a hit with the Julia Child tale "Julie & Julia."
BHOPAL - A 16-year-old leopard, Sheru, died at the Van Vihar National Park here Thursday, the second death of a big cat in as many days, a wildlife official said.
JUNAGADH - Two officials of the Sakkarbaug Zoo in this Gujarat town, which houses two cheetahs brought from Singapore, will travel to the island nation next month to learn ways to help the animals cope with the harsh Indian summer.
SASAN GIR - Tourist inflow to the Gir National Park in Gujarat, the world's only natural habitat for the rare majestic Asiatic lions, has dipped due to the intense heat.
LONDON - After handing out a 2-o series defeat to the West Indies, England cricket captain Andrew Straus is ready to take on the Australians in this summer's Ashes series.
QUINCY, Mass. — A Massachusetts Christian college has dropped its Crusaders sports team nickname because of the word's "negative connotation."
WASHINGTON - A newly discovered cave painting in Australia offers a glimpse of an extinct marsupial lion's external appearance.
PROVO, Utah — Carson Clark had 12 kills and UC Irvine returned to the NCAA volleyball championship with a 3-0 sweep of Ohio State in the semifinals Thursday night.
DETROIT — Larry Foote says he is close to agreeing to a one-year contract with the Detroit Lions.
LONDON - Former Spice girl Geri Halliwell has adopted a pair of white lion cubs, a male and a female, and says she is delighted to have them as part of her family.
WELLINGTON, New Zealand — Otago Highlanders center Daniel Bowden was suspended for one week when he pleaded guilty to a dangerous tackle charge at a Super 14 rugby judicial hearing.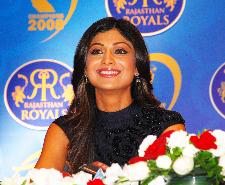 Mumbai, February 3, 2009: Rajasthan Royals, Champions of the inaugural Indian Premier League (IPL) in 2008 today announced selling an equity stake to London based entrepreneur Raj Kundra and his partner, well known Bollywood celebrity, Shilpa Shetty. Raj Kundra is the Chief Executive Officer of Essential General Trading LLC, a Dubai based international trading company dealing in precious metals, construction, mining and green renewable energy projects. Shilpa Shetty is the Chief Executive Officer of S2 Global Productions Pvt Ltd., which is her home film production company. The announcement was made by Manoj Badale, Chairman and joint owner, Rajasthan Royals.
WASHINGTON — Jack Kemp, the former pro quarterback who turned fame on the gridiron into a career in national politics and a crusade for lower taxes, has died of cancer at age 73.
LONDON - Former Spice Girl Geri Halliwell has adopted two lion cubs.
The singer has adopted the pair of rare white lions, a boy and a girl, and has named them Rudi and Aphrodite.
WASHINGTON — Jack Kemp, the former pro quarterback who turned fame on the gridiron into a career in national politics and a crusade for lower taxes, has died of cancer at age 73.
ALLEN PARK, Mich. — The Detroit Lions have hired Jeremiah Washburn as assistant offensive line coach.
PITTSBURGH — Wide receiver Shaun McDonald, punter Dirk Johnson and cornerback Keiwan Ratliff were among five free agents who signed with the Pittsburgh Steelers prior to the start of their minicamp on Friday.
PITTSBURGH — Unlike coach Mike Tomlin's first minicamp two years ago, there probably won't be much drama when the Pittsburgh Steelers begin their lone mandatory offseason practices Friday.
NEW YORK — Joe Paterno felt like he was in charge again this spring.
BANEJ - A temple priest, who is the only voter registered at a polling station in the Gir lion sanctuary in Gujarat, said he was proud of Indian democracy as he exercised his franchise Thursday.
WELLINGTON, New Zealand — Wellington captain Rodney So'oialo believes the Hurricanes haven't found top form even though they lead the Super 14 rugby table entering Friday's 12th of 14 regular-season rounds.
SANTA MONICA, Calif. — Boutique movie studio Lions Gate Entertainment Corp. said Monday it has signed a multiyear deal to distribute Relativity Media productions in the U.S.
NEW YORK — The New York Jets began the second day of the NFL draft in much the same fashion they impacted the opening round the previous day.
NEW YORK — There's no other sight like this in sports: An elegant old performance hall, packed with bellowing fans in every color.
DETROIT — The Detroit Lions hope Matthew Stafford ends their decades-long search for a star quarterback.
DETROIT — Matthew Stafford and the Detroit Lions agreed on a six-year deal Friday night, a person familiar with talks told The Associated Press.
PATNA - Zoo officials in Patna made special arrangements to protect the animals under their care from the rising mercury.
LOS ANGELES - Walt Disney Co have released a new nature documentary in a move designed to mark Earth Day and recall the company's pioneering efforts to bring wildlife movies to the masses from the 1940s onwards with its True-Life Adventure films.